I Like Books and I Cannot Lie……
I love to read and I read a lot. There are very few people who read more than I do that I know. I am a very eclectic reader. I read anything from Christian fiction, Christian non-fiction, historical fiction, historical non-fiction, supernatural fiction, young adult dystopian novels, etc….and anything that has to do with Vampires (more on that later.) I have to admit though that I read very few mystery novels.
I own a lot of books.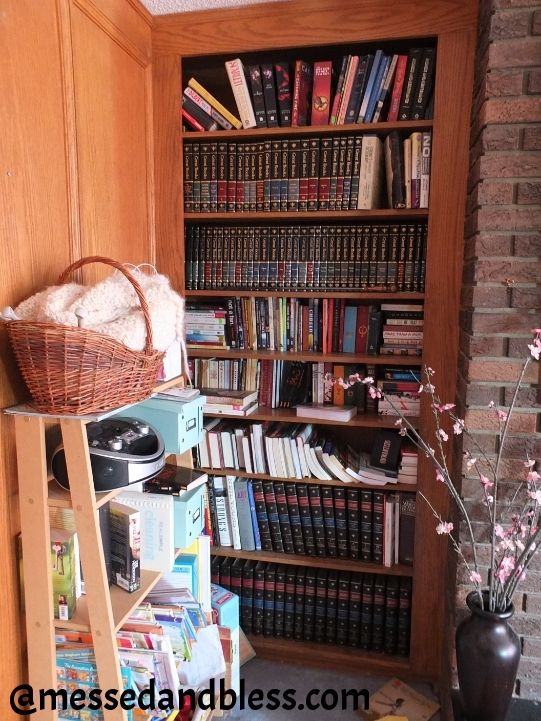 Yes, for your information the two bottom shelves are the Encyclopaedia Britannica (1994 edition). History doesn't really change too much and I'm ready for when the internet goes down (too many dystopian novels). I will admit that I have read very few of those books on the shelves (including the encyclopaedias). I also purge the shelf regularly. If I have read the book and don't think my daughter will read it in the future; if the book isn't a classic; if I wouldn't recommend it to my friends; if it has been on the shelf more than 10 years and I haven't read it yet (there have been many); those books get purged at my yearly garage sale. I also have books in my night stand and baskets throughout the house.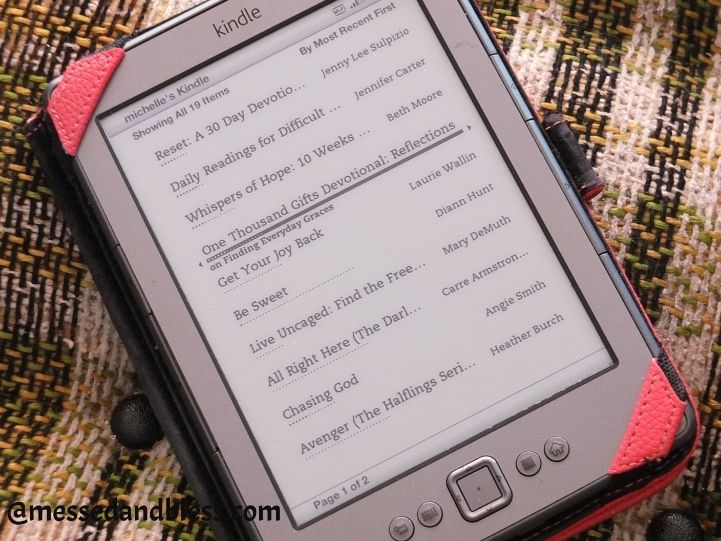 I also own a kindle. Currently I have 606 books in my archive. I have probably only read 25% of the books. I often wonder if there is a way to purge the books from your archive. Many of the books I have gotten for free or I have read them and wouldn't read them again. If you know of a way to purge books from a kindle, let me know.
This year my best friend and I are following along with the 2015 Reading Challenge from PopSugar.  I'm excited because it will help me deal with all the books on my book shelves and kindle. We made some of our own rules like one book per challenge (you can't double up). We constantly discuss the books that we might read for certain upcoming challenges. The only book that I didn't own for our challenge was "A book with nonhuman characters". We both decided to read Animal Farm by George Orwell. We both read it audibly. Amazing book and well worth the read. We both couldn't believe that we hadn't read it before. By the way, it's all Snowball's fault (if you've read the book you'll get it. If you haven't, read it!). The other books I have read in this challenge are:
A book with more than 500 words:  The First Princess of Wales by Karen Harper
A classic romance:  Northa and South by Elizabeth Gaskell
A book that became a movie:  The Host by Stephenie Meyer
A book published this year:   The Darkest Part of the Forest by Holly Black
A book with a number in the Title:  5 Conversations to Have with Your Daughter by Vicki Courtney
A book written by someone under 30:  Thirst by Claire Farrell
A book funny book:  Blood Bath and Beyond by Michelle Rowan
A book written by a female author:  The Unwanteds by Lisa McMann
Beside the aforementioned reading challenge I am also challenging myself through Goodreads. I want to read 130 books this year. I am already behind but have 4 Devotional/Study books on the go right now so I'm not too worried. I also read a lot on holidays or long distance drives. I know my husband thinks I'm ignoring him during the drives but if I don't read I do a lot of backseat driving. Probably safer in the long run.
I'll keep you posted on what I'm reading and how the challenge is going. Let me know what you're currently reading and your favourite genre. I'm always up for new reads (unless they are mysteries.) Feel free to friend me in Goodreads.
6 Responses to I Like Books and I Cannot Lie……